The Shuswap Association of Writers is proud to bring you the 2023 Askew's Word on the Lake Anthology. This 100-page book collects thirteen stories and poems from the winners of the 2023 Word on the Lake Writing Contest and some of the amazing presenters at the 2023 festival.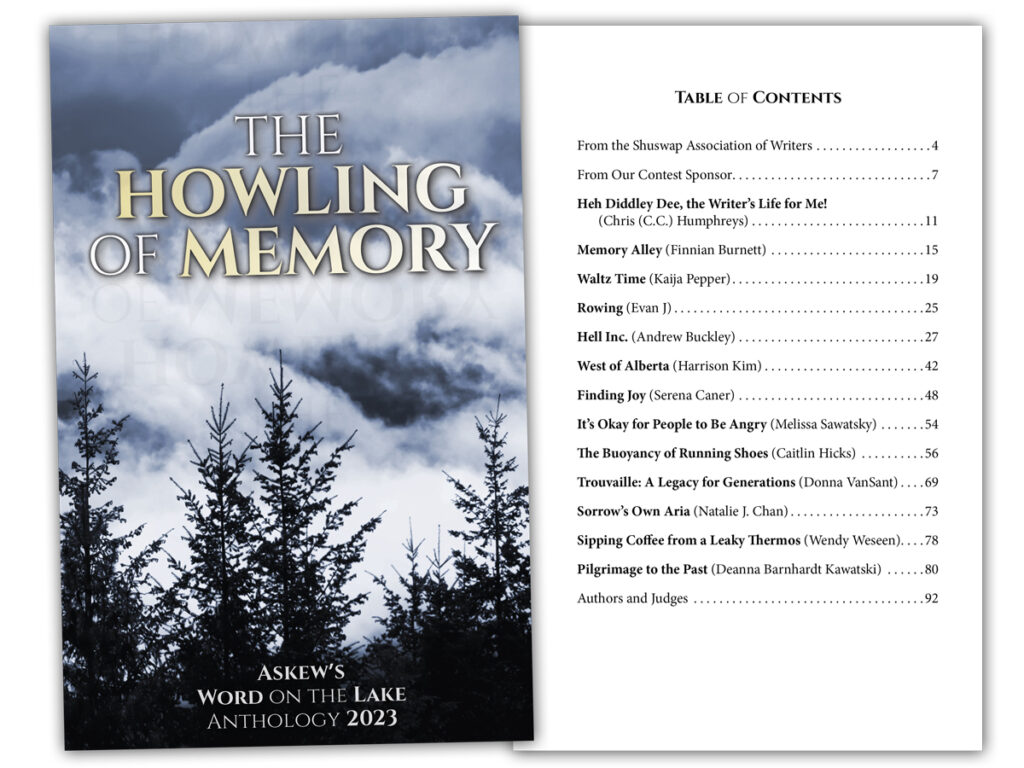 Ebook
The 2023 Askew's Word on the Lake Anthology is now available in epub format (for iPad and most other e-readers) and PDF for $7.50. You can purchase the anthology right here using a major credit card or your PayPal account. As soon as your payment is processed, you will be provided a download link right away.
If you prefer the mobi ebook format for Kindle e-readers, you can purchase the anthology at Amazon.ca.
Print
The print version of the anthology is available through Amazon.ca.
---
Questions or problems with ordering an anthology? Send an email to [email protected].
All sales of the Askew's Word on the Lake Anthology go directly toward supporting the Word on the Lake Writers' Festival.
From our Contest Sponsor — Askew's
For two decades, the Shuswap has hosted the annual Word on the Lake Writers' Festival. This festival serves to encourage new, emerging, and seasoned writers to celebrate the full diversity of the written word, and the gifted writers who guide us in our exploration through their stories and poetry.

Through the years, Askew's has stayed true to its founding principles of fostering community by providing value, contributing to the health of our community, and dedication and goodwill. We believe our sponsorship of the Word on the Lake Writing Contest since its inception as part of the festival ten years ago serves the purpose of providing value to our general community by supporting our creative community, which then contributes to the sharing of creativity and knowledge. The sharing of creativity can then produce goodwill by establishing a sense of connection with the listening, reading, and writing audience.
Askew's ongoing presence in the community for the past ninety-four years has given us the opportunity to help support Salmon Arm's rich population of writers and storytellers through sponsorship of this festival, which we are proud to support.
— David Askew
President and CEO, Askew's