The Shuswap Association of Writers is proud to bring you the 2022 Askew's Word on the Lake Anthology. This 115-page book collects fifteen stories and poems from the winners of the 2022 Word on the Lake Writing Contest and some of the amazing presenters at the 2022 festival.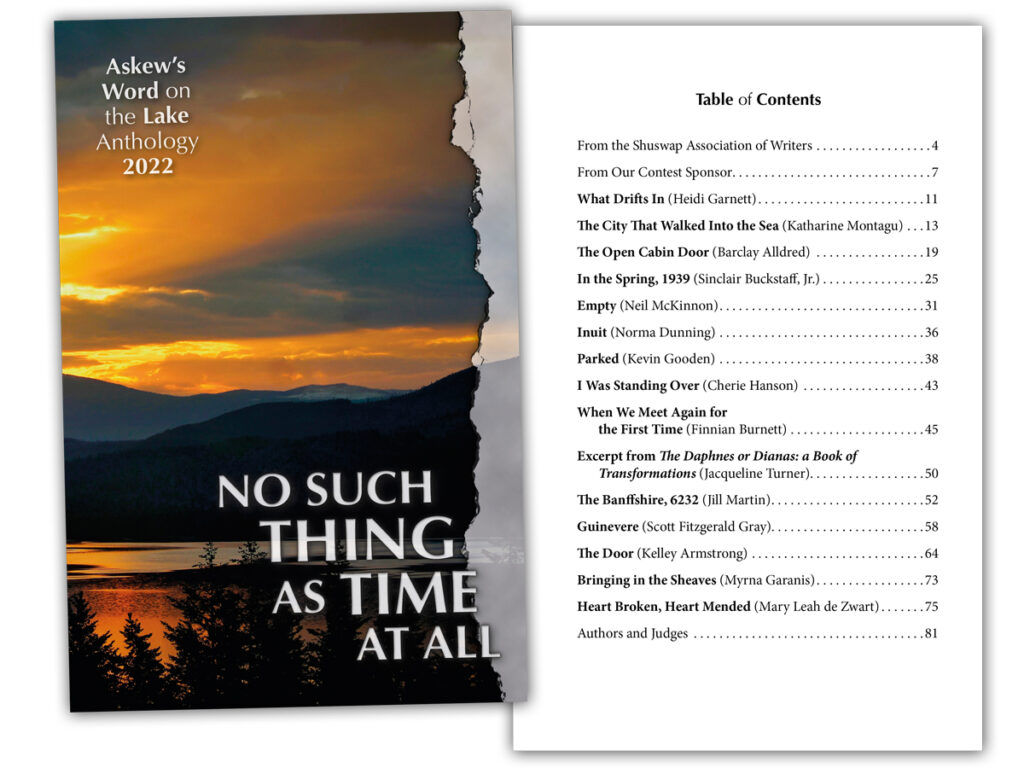 Ebook
The 2022 Askew's Word on the Lake Anthology is now available in epub format (for iPad and most other e-readers) and PDF for $7.50. You can purchase the anthology right here using a major credit card or your PayPal account. As soon as your payment is processed, you will be provided a download link right away.
If you prefer the mobi ebook format for Kindle e-readers, you can purchase the anthology at Amazon.ca.
Print
The print version of the anthology is available through Amazon.ca.
---
Questions or problems with ordering an anthology? Send an email to [email protected].
All sales of the Askew's Word on the Lake Anthology go directly toward supporting the Word on the Lake Writers' Festival.
From our Contest Sponsor — Askew's
As I look back at the past two years, it is hard not to feel both somewhat breathless and grateful for all that we've learned and achieved. The collective challenges presented by a pandemic that nobody expected to last this long have changed how many of us interact. Many of us persevered through the individual and societal challenges we faced; because of our resilience, we have learned to adapt and grow through the trials we faced. Many of us learned that we are at our best when our choices are guided by compassion and consideration for others, especially in our community.
Askew's has been a mainstay in the local community for ninety-three years; Askew's sees that its success is tied to the health of the communities we operate in. We live within a vibrant community of artists, musicians, actors, dancers, teachers, audiences, writers, and storytellers alike — sharing stories and connecting through the arts. Askew's continues to remain committed to supporting the rich arts and creative community in Salmon Arm.
We believe that a love of reading and learning should be nurtured throughout our lives. This festival helps to create an environment of creativity and encourages the love of reading, learning, and self-expression. Askew's is proud to be a program sponsor of the Word on the Lake Writers' Festival, supporting its efforts in showcasing both established and emerging writers.
— David Askew
President and Owner, Askew's