Word on the Lake Writers' Festival is going VIRTUAL for 2021.
It will run from Friday evening, May 7th through to Sunday, May 9, 2021. Sessions will include both skill development workshops, open forums, Blue Pencil sessions with authors based on questions and answers in an intimate setting.
  ♦  2021 Full Festival Schedule [PDF] 
---
Friday, May 7th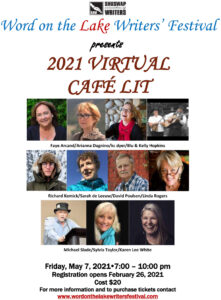 VIRTUAL CAFÉ LIT – MEET THE PRESENTERS & ENJOY READINGS FROM THEIR PUBLISHED WORKS
7:00 – 10:00pm
Saturday, May 8th
OPENING & KEYNOTE
8:45am-9:15am
WORKSHOPS
9:20am-5:00pm
BLUE PENCIL CAFÉ SATURDAY
9:30am-5:00 pm. FREE
ASKEW'S FOODS WRITING COMPETITION AWARDS CEREMONY
5:15 – 6:15 pm.
SHOCK THEATRE 'BOOMERANG'
7:00pm-10:00pm.
---
Sunday, May 9th
CONVERSATION WITH LINDA ROGERS, KAREN WHITE and KELLY & BLU HOPKINS
9:30am-10:30am
WORKSHOPS/PRESENTATIONS
FESTIVAL CLOSING 3:00pm